English
Intent
English at Priory- Unapologetically Academic-Unashamedly Ambitious.
If a child believes they are capable of being challenged and their teacher believes in them and tells them 'this is tough but I know you can do it' in my experience- they rise to that challenge; they believe it too.
Within Priory's English department, we will never give a child work that has been differentiated to make it easier, or fed a diet of busy, meaningless tasks because they haven't had high prior attainment. All classes, across both KS3 and 4, are taught high order skills and the work is scaffolded so they can climb to these heights.
We love our subject and want English learners to be readers and writers for life, we can teach all levels of sophisticated English skills and help students to foster a real love and appreciation for language and stories.
We are dedicated to diagnosing the therapy that each learner needs, fixing it through DIRT lessons and targeted intervention in lessons, (all of this through quality first, always relevant teaching) and then aiding the pupils as they tackle the next hurdle to get them to improve.
The schema are designed so that units have features in common so learners can recall working on skills, as well as knowledge obtained in previous years and work towards improving them every step of the way. Due to English being a skills based subject, our reading and writing units, and our oracy units are continually working on honing skills, right through school. To this end, all pupils, with the exception of Year 11 read EVERY day. All KS3 pupils read for an hour a week and all pupils are set challenging homework tasks.
We do not believe in a stopping point because a pupil's target or prior attainment says that they should leave with a certain grade- we break those glass ceilings and tell our learners that anything is possible.
The curriculum may have changed and told us we can't teach certain texts anymore; we may have lost coursework but now that, in English, more texts are blind, pupils are finally being rewarded for just saying what they think 'This poem made me sad because…' is now worth more marks than spouting learned by rote terminology about a poem that they didn't feel or Shakespearean characters that they didn't even get asked if they liked. 'I think' is finally worth something. And we celebrate that. As such, we teach enquiry now. We have Big Questions every lesson that we aim to answer after time so that the pupils are always questioning issues of morality for example through their English study.
Our learners at Priory are not being taught 'to the exam' but we don't let the students forget those exams are coming so they're given challenging texts to read and they write in reams, always with the idea that they might one day be a professional writer, a degree student or, if that's not their goal, they'll at least have to make themselves understood.
We want our pupils to question things, assert their opinions, be able to speak up in any context about any topic- be heard and be bold.
So whilst they will eventually be given four exams on topics taught at KS4, they will be ready to give their view, find joy in creativity, be inspired; shout when there's injustice and do it all in good, standard English, using the most impressive, tier 2 and 3 vocabulary and organise their views well so that they can be leaders, inspiring entrepreneurs; tenacious parents and interesting, well rounded people in their lives after Priory.
Implementation
The English Department at Penwortham Priory Academy prepares pupils to take an active part in the world beyond school by developing their all-round communication skills. This subject calls for pupils to become active readers, confident speakers and engaging writers, all with accuracy and careful attention to detail.
Language and Literature are taught as combined courses throughout both key stages and all pupils are entered for GCSEs in both subjects.
We are a reading school and have invested in Accelerated Reader (AR). Up to Year 10, each pupil carries a reading book and has access to both the library and software which enables them to 'quiz'; develop their vocabulary and choose appropriate reading material from the growing school library. AR is a programme that effectively diagnoses, assesses and encourages a love of habitual reading.
The English department fully supports and takes an active part in the 'Read Aloud' sessions during Learning for Life lessons.
In collaboration with the department, the school's Senior Leaders implement a fortnightly literacy and vocabulary quiz which features 'Word of the Week'; 'Literacy tip of the Week' and also 'Synonym of the Week' every pupil in Years 7-10 sees and takes part in the quiz which is coordinated by the English team.
Each English unit is 'knowledge rich' as well as 'skills rich' and the variety of skills and knowledge taught is absolutely vast, supporting the school's drive on Learning for Life.
Knowledge and skills are tested and interleaved in a low stakes setting at the discretion of class teachers but always weekly in both KS3 and 4.
The department are advocates of Kagan Cooperative Learning structures and implement them routinely in lessons.
All lessons in year 7-10 begin with 10-15 minutes of private reading wherein the member of staff models good reading behaviour in line with the department's Accelerated Reader 'charter'.
Accelerated Reader FAQs
Year 7
The topics in Year 7 are specifically chosen to develop, enhance and build on skills taught in Key Stage 2 in writing such as vocabulary use and sentence cohesion. The Y7 programme also features a unit on Oracy which compliments and builds on the KS2 National curriculum. This is all in addition to the application of accurate and varied punctuation.
Year 7 reading begins to develop basic Key Stage 2 comprehension and foster understanding of inference, perspective and language use.
Alongside this, we run a bridging unit throughout the summer holidays which feeds into your child's first unit at secondary school - Creative Writing:
Autumn Term 1 -
Escape From Kraznir. Year 7 meet an army of warriors who fight against an evil tyrant king; Year 7 lead their army in a creative writing quest.
Autumn Term 2 -
First Day At School. A reading unit studying extracts of fiction and non-fiction, all about school. Pupils will address how they think the writer feels and develop appreciation of conveying feelings through language.
Christmas Speech Competition. In the run up to Christmas, your child will write and perform a speech on a topic of their choice. If they are lucky enough, they will be selected to compete against other Year 7 finalists for the grand prize!
Spring Term -
Poetry Study. The pupils explore what a poem is and study texts from a variety of celebrated poets. They will develop understanding of why poetry is written and understand when a poet has a message. They will also compete in a poetry writing competition.
Literary Heritage Unit. This introduces pupils to older writers and some of their texts including Greek mythology, Roald Dahl, Mary Shelley and Rudyard Kipling. They will develop an understanding of the importance of context and how narratives have changed over time. It also exposes our learners to the 'greats'- authors that are celebrated and revered in the field.
Summer Term -
'Nature is Beautiful'. Students will write from a stimulus about the world we live in.
'School trips' Persuasive Writing. Students finish the year writing non-fiction, writing different non-fiction styles with a focus on persuading the reader.
Year 8
Autumn Term -
'Time Travel'. Pupils will study a range of captivating short stories and fiction extracts to develop their structure and language analysis skills.
Animal Welfare. Your child will read a collection of 'real-world' texts from letters to opinion articles. Classes will foster an appreciation of how writers show their points of view on culturally significant topics.
Spring Term 1 -
Complaining. Your child will write a range of non-fiction and be taught to craft engaging, purposeful and well-structured real-life pieces of writing, including a letter of complaint and a film review.
Spring Term 2 -
Class Novels. A story that they read as a class. During this time, your child will understand how writers craft fiction texts and create lovable characters and compelling narratives.
Summer Term 1 -
Writing From An Artefact Stimulus. Your child will craft a piece of engaging, well-planned creative writing based on a physical, thought-provoking artefact.
Summer Term 2 -
Pupils will be taken back in time to the Elizabethan era and a trip to the theatre five centuries ago! They will fall in love with one of Shakespeare's plays and learn about culture and expectations in the 16th Century. Who will your child meet when they step inside the Globe Theatre?
Year 9
Autumn Term -
Detective Stories- Year 9 start the year by writing creatively and learning about creating engaging narrative hooks, descriptive technique and shaping memorable, likeable characters. In this unit, they will explore how to draft, redraft and edit their own texts in order to create creative pieces that are captivating to read.
In the late Autumn, Year 9 read a novel rich in cultural capital that crucially is NOT on the GCSE framework. The idea of this scheme of learning is to introduce your child to cultures, lifestyles and value sets beyond their own and discover parts of their world they never knew existed.
Spring Term -
After Christmas, Year 9 read a collection of poetry, again a culture rich, non-GCSE anthology giving a delicious insight into other cultures and traditions including poetry written about the Apartheid struggles in South Africa and poetry that addresses white and middle class privilege in our own cultures. This unit aims to foster a mature and informed grasp of other worlds beyond the confines of our borders and create 'I didn't know that!' moments in every lesson.
In late Spring, Year 9 dive into non fiction study and explore writers' viewpoints and perspectives in non-fiction. This includes a study into current media topics and how writers can convey their feelings through bias and language choices, tone and structural features.
Summer Term -
The summer term begins with Year 9 creating transactional pieces of non fiction and expressing their own views on current affairs through letters, speeches, critical essays and articles.
The final Half Term sees Year 9 reconnect with William Shakespeare and study a new play. Here, they will closely analyse Shakespeare's intentions in his creation of fascinating characters.
Key Stage 3 Curriculum Map
Year 10
Autumn Term -
Year 10 start the year with fiction and analysing the language and structure in some of our favourite fiction texts. The department's expert examiner team help students understand the GCSE Assessment Objectives and achieve them as well as appreciated writer's craft in fiction writing.
In the run up to October Half Term, Year 10 familiarise themselves with the poetry anthology, starting their study of William Blake's 'London'.
After the Half Term pupils read their 19th Century text. Your child comes face to face with 'Old Scratch' when they take a visit to 'Scrooge and Marley's' in Dickens' festive classic originally meant to be a leaflet but turned into 'My Little Christmas Story' featuring a fierce and heart-warming message about social responsibility.
Spring Term -
The Spring sees Year 10 embark on an exploration of non-fiction. In class pupils will sharpen their non-fiction skills. In the run up to Easter, the pupils dust off their anthologies and study GCSE war poetry.
Within this unit, pupils will also study 'Poems about abuse of Power'.
In late Spring, pupils will reconnect with Shakespeare, studying their GCSE text this time.
Summer Term -
In this term pupils study poems about mental struggle followed by their Spoken Language Unit.
Summer means that your child is fast approaching Year 11 and as such, they are assessed through a series of mock exams that inform our teaching for September.
Year 11
In Year 11, your child focuses on honing and polishing skills taught so far on their course. As well as this, they will read their final Literature text, this time a modern novel or play for assessment on Literature Paper 2.

At every stage of your child's learning at Penwortham Priory Academy, the department guarantees an exciting, pertinent and rewarding year that will pay dividends to your child's progress and development of their character in readiness for the world. English is absolutely vital in equipping your child with skills and awareness for life. If you have queries or indeed suggestions about your child's journey in English at Priory, please contact me, Mrs Gidden via email at a.gidden@priory.lancs.sch.uk
Your child's development of literacy, writing and reading appreciation means as much to us as it does to you. We can't wait to meet your child!
17 December 2020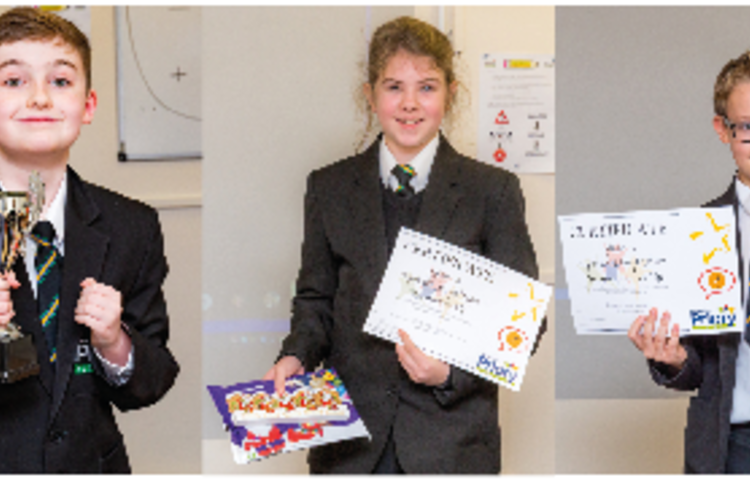 Year 7 have been working hard to write and deliver a speech on a topic that's important to them.
16 December 2020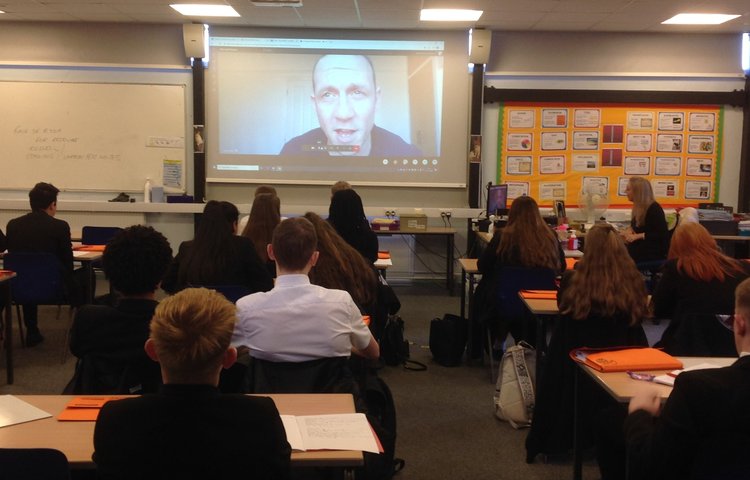 The Blood Brothers workshop was wonderful. The actors talked with such knowledge and passion about the characters and Russell's inspiration for writing the play.