Alumni
What is an alumni?
An alumni refers to the graduates of an educational establishment.
Priory's alumni association
The school's alumni association is an opportunity to stay in contact with Penwortham Priory Academy and become part of an exclusive network of past pupils.
The alumni association has its own Facebook group where past pupils can keep up to date with all things of past Priory, post updates and connect with other members. And if you have given us your email address you will also receive occasional newsletters, invitations to school events and a dedicated school contact.
It's easy to join
If you would like to become a member of Penwortham Priory Academy's alumni association, it's easy to join. Just provide us with your name and email address so we can keep in touch*. We also recommend going to the school's Facebook page and request to join the alumni group - click 'visit group'.
Email alumni@priory.lancs.sch.uk with your name, email and year you left school (if known).
Facebook group - www.facebook.com/groups/penworthamprioryalumni/
*Your details will be processed in accordance with our privacy policy.
Wall of Inspiration - Inspiration for our future generations of students
We are always very proud at Priory to hear about our ex-students who have moved on to successful careers and personal lives. We are also honoured to work with other people, not only from our local community, but also those from further afield who have both national and international recognition and have touch upon our school in some way.
To celebrate all these links, our 'Priory Wall of Inspiration' proudly displays information on past students as well as other people who have worked with our school in some form or another in the past.
The wall occupies a prominent position in the school surrounding our front entrance area and is already inspiring current students, highlighting to them what can be achieved in life.
We hope to continue adding to our 'Wall of Inspiration' as the years progress, so if you know of any past students who have gone on to do great things, or anybody else who might want to work with us as a school, then please let Mr Eastham or our alumni contact know so we can get in touch with them.
Don't forget too, that if you are a current student, always keep in touch with us, even after you have left school, to let us know how you are doing and, who knows, maybe one day you will be included on our 'Wall of Inspiration' and be a permanent part of our school's very proud history.
Related News
1 December 2023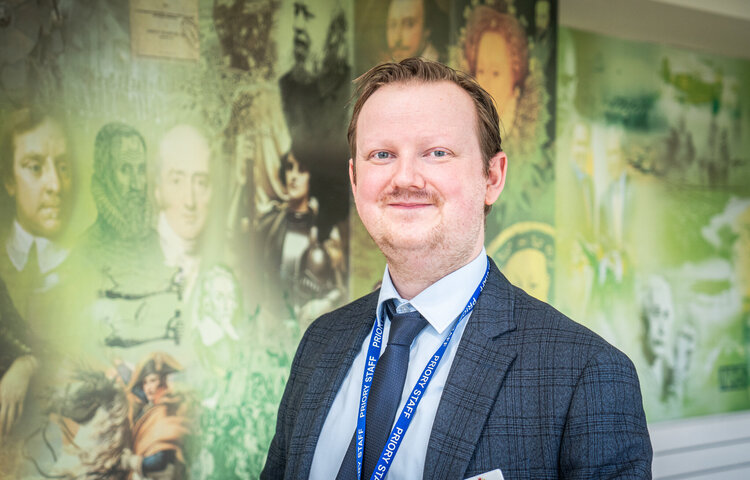 Mr Walsh has turned from a Priory pupil into a Priory teacher – and loves it! 
31 October 2023
Mrs Simpson was bowled over by her long service award – as it was a necklace made in the design of a bowler hat - which was made by a former Priory pupil.