Summer School 2022
24 August 2022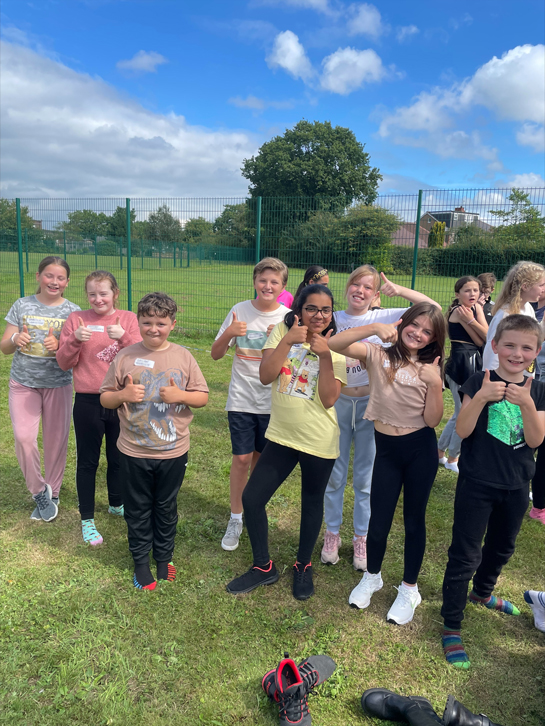 How did Summer School go then?
We hope that all our Year 7 pupils who could join us for Summer School had fun whilst getting to know their new school, meeting the teachers and making new friends.
The 3-day event was led by Humanities teacher, Miss Ackers, to benefit our new intake's transition to high school. With a 'theme park' theme, pupils took part in many fun activities to develop their team building skills, independence and communication. Pupils were shown how to access the ICT systems and set up their online accounts to gain their 'entry tickets', learnt about the Eat Well Guide to help them make their own lunch, navigated the school through treasure hunts, enjoyed circus skills workshops, and of course...the inflatables!
Before the pupils headed home on the last day, parents were invited to see their children collect certificates and watch a video montage of the event.
Lead teacher, Miss Ackers, said, "Summer School was an enriching experience for all and couldn't have gone any better. The students were able to ease their anxieties and have fun. I am proud of the student helpers who aided the teachers and I'm ecstatic that the new Year 7s found it helpful. Hopefully next year can be just as beneficial."
A special mention to the staff and Year 8, 10 & 11 pupils below who volunteered their time to come in during their holidays to support the event:
Year 8 - Jamal C, Evie C, Archie I, Shiven N, Chloe R, Freya Y, Year 10 - Grace D, Alex I, Year 11 - George H, Daniel R, Scarlett S.
DAY 1
It was a day mixed with excitement and nerves for our new Year 7s but they soon settled into their first day at Summer School.
Pupils took part in team building activities, learnt about the Eat Well Guide which they then used to help them make their own lunch, and did a treasure hunt to get to know their way around the school.
DAY 2
Are you ready?... It's A Knockout!
Today was our 'day at the theme park' with an inflatable assault course, circus skills workshops plus arts and crafts. Our new intake had an amazing time and even the staff got to join in with the fun!
DAY 3
Today pupils had a taste of the lessons they will experience in September.
The day began in the Hex with a computing task to set up and log into their online accounts ready for September, followed by Mrs Farley's Q&A session to ease any anxieties, before finishing off with Maths and Humanities sessions. Pupils enjoyed ice cream and popcorn treats for their efforts.
Miss Ackers and all the Summer School team hope all our new pupils have had a brilliant time and thank everyone involved.
Slide show, please scroll>>
Tags: Transition Year 7