Eco Committee Wants Your Batteries
Eco Committee Wants Your Batteries
9 January 2023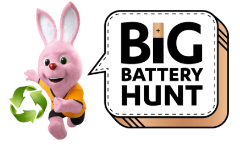 Eco Committee has entered the school into Duracell's national competition, The Big Battery Hunt, to get you recycling batteries.
The Big Battery Hunt is a nationwide campaign to help educate and inspire young people to recycle more used batteries, and throughout January, we're on a mission to collect as many as we can!
Bring your used batteries to school and pass them to your Learning for Life teacher
By taking part in the campaign the school will be in with a chance of winning £3,500 worth of outdoor equipment, the pupil who collects the most will be entered into a draw to win a Nintendo Switch, and on top of this, the Eco Committee will be awarding a prize to the leading Learning for Life group.
Throughout the week pupils have been finding out more about the project in their Learning for Life lessons and learning why batteries shouldn't be just thrown in the bin!
Did you know...
Did you know, each year we throw away approximately 600 million batteries?
More than 20,000 tonnes of batteries end up in landfill sites – that's as heavy as 4,000 elephants!
It can take 100 years for a battery to decompose
The chemicals in the battery can pollute the soil and water, which animals and plants need to survive.
400 million batteries are currently recycled each year. But that is just a small fraction of the batteries that are sold in shops.
Tags: Science Learning for Life Extra Curricular Personal Development