A Christmas designed for Priory
A Christmas designed for Priory
13 December 2021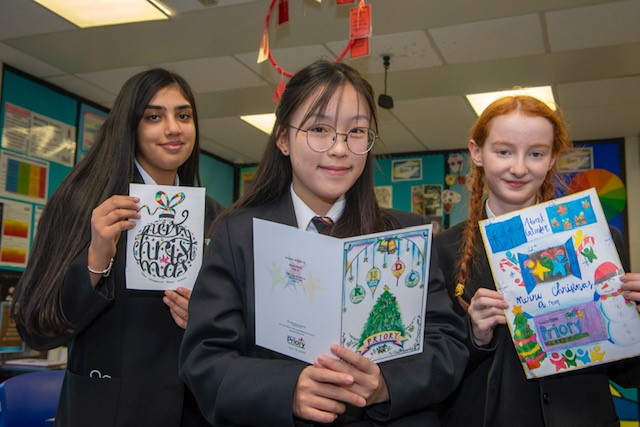 "Absolutely stunning," was how Head of Art, Mrs Hopes, described the winning entry of our Priory Christmas card competition.
The entry from Year 8, Agnes, blew the judges away with the brief for the design to be an original winter or Christmas-themed painting or drawing and incorporate a connection to Priory.
Agnes drew a Christmas tree, with Priory at the bottom and the four houses at the top and the card speaks for itself.
"Stunning," said Mrs Hopes. "It's the best I have seen in my years at Priory and at my other school before that. Agnes is extremely talented. She only joined us this academic year and her sketch work is phenomenal. It was a really high standard and, in other years, Fatima and Jessica, who came second and third, would have been in the running to win but Agnes' entry was outstanding. It was far and away the best."
Agnes, who came to England from Hong Kong this year, said she was shocked to win and to collect a £15 Amazon voucher.
"When I heard I had won I thought 'Oh my gosh!', it's such an honour to see my design on a card. It's very exciting. I want to do GCSE Art and see where it takes me as I enjoy drawing."
Fatima finished runner-up with her bauble design and she won a £10 Amazon voucher. "I did it in about 40 minutes. I entered the competition last year and I enjoy art so it's great to win a prize."
Headteacher Mr Eastham, one of the judges, said: "I really liked Fatima's design, it was very professional."
Jessica, who came third and won a £5 Amazon voucher and achievement points, which all entrants were awarded, added: "I enjoyed designing a card and I am happy to win a prize."
Mr Eastham said: "Jessica's design had a lot of colour, good Priory representation and the Christmas message included."
All other runners up received a certificate, achievement points and a selection box for taking part. Well done to all our entrants: Agnes K Yr8, Fatima H Yr10, Jessica D Yr7, Aaron W Yr7, Jane W Yr8, Junaid Q Yr7, Freya Y Yr7, Evie C Yr7, Jack W Yr10, George F Yr7, Emily J Yr8.
SCROLL THROUGH THE ENTRIES BELOW.
Tags: Creative Arts Extra Curricular