World Book Day - A whirlwind of a day!
World Book Day - A whirlwind of a day!
4 March 2022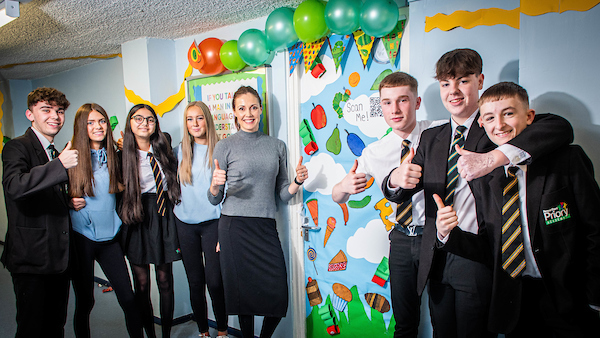 It's not often, if ever, you see a dinosaur running around Priory but it was all part of an action-packed World Book Day!
Year 9 pupil Lochlan donned the outfit as part of the 'dress up as a book character' challenge but that was only one section of the fun-filled literacy events which were going on around school yesterday.
"I got the costume for Hallowe'en and thought I would wear it for World Book Day," said Lochlan. "I did take it off for class though!"
On a tour around the school, you could bump into Mary Poppins, Dorothy from the Wizard of Oz, Mr Trunchbull from Matilda along with Where's Wally, plenty of Harry Potter characters – Mr Watters as Albus Dumbledore was impressive! – Mr Men, Sherlock Holmes and many more as pupils and staff alike really got involved in the day.
Head of English Mrs Gidden said: "For the English Department, this is a really important day. We know the importance of reading and we stress this in English every day but it's a chance for other departments school-wide to spread the love of reading.
"It's a chance for the children to dress up and express themselves – and the staff love it too!"
Mrs Scully won the decorated door event – in a very high-standard of competition – with her door, with added balloons, depicting 'The Hungry Caterpillar.'
"I am surprised to win," she said. "I chose the book as it's my daughter's favourite book, but all the ideas, including the balloons to make the caterpillar, came from the pupils who helped me."
There was a Treasure Hunt at lunch-time as well as the popular Masked Reader competition, where a teacher read a script with a few clues but a voice changer disguised their voice and the pupils had to identify the teacher.
There was also a 'Hooked into Books' quiz from Mrs Elliott where pupils had to guess which books got which teacher 'hooked on books.' Who enjoyed Horrible Histories? Which teacher read the Beano all the time? Who loved any Roald Dahl books? Who enjoyed the diary format of Adrian Mole? All questions which the pupils had to answer.
Year 11 Darcy dressed up as Mary Poppins, and was voted one of Mrs Gidden's favourites, and admitted it was tinged with a bit of sadness. "It was my last World Book Day at Priory so I wanted to do something special and I do like to dress up!"
Kyle was Mr Wormwood in the school production of Matilda and he had the chance to wear his bright outfit again. "I decided to revamp it!"
A hugely successful World Book Day at Priory – where a love of reading from staff and pupils is clear!
Tags: English