What's the music this week? w/c 24 January
What's the music this week? w/c 24 January
24 January 2022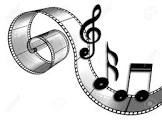 This week it's all about: Movie Music...
The composers John Williams and John Barry, and James Bond themes dominate proceedings here. Coverage ranges from 1939 Gone with the Wind, through to films from the present day.
A film score is original music written specifically to accompany a film. The music is usually performed by an ensemble of musicians - an orchestra or band, instrumental soloists, and choir or vocalists. Film scores encompass a wide variety of styles of music, depending on the nature of the films they accompany. The majority of scores are orchestral works and based upon Western classical music, but many scores are also influenced by jazz, rock, pop, blues, new-age and ambient music, and a wide range of world music styles.
More recent films, since the invention of digital technology and audio sampling, have their music created and performed wholly by the composers themselves, by using music composition software, synthesisers, samplers, and MIDI controllers.
MABAL is music played through the school's tannoy system during break and lunch. Chosen by Mr Taylor, Lead Teacher for Music, this is designed to offer exposure to the curriculum in different ways, and support pupils' appreciation of music.
The focus is on one theme each week across a genre, a country or from history. The theme could also link to the season or an event in school, such as the production. Any further suggestions are welcomed - pupils should see Mr Taylor or email a.taylor@priory.lancs.sch.uk
Tags: Music