Layton Williams - Star quality at Priory
Layton Williams - Star quality at Priory
5 October 2020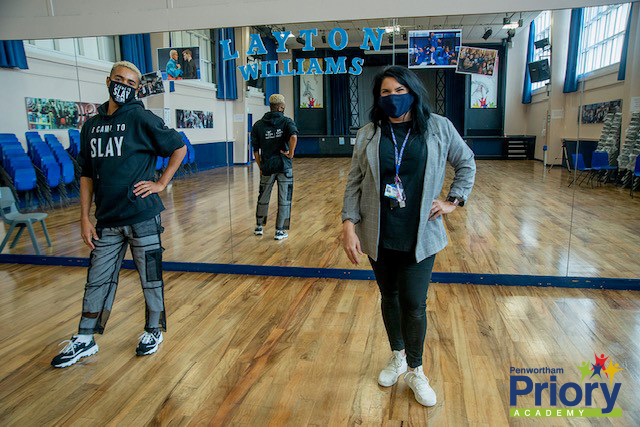 The West End came to Penwortham Priory Academy as theatre and TV star Layton Williams hosted an energetic drama and dance workshop for pupils.
The Bad Education actor, from Bury, spent a day at Priory with Year 9, 10 and 11 pupils, all organised by Drama Teacher Felicity Howell.
Miss Howell had taken a group of pupils to London last November to see Layton in 'Everybody's Talking About Jamie' at the Apollo Theatre.
The group were meant to attend a workshop before watching the West End performance but it didn't go to plan – so Layton brought theatre to Priory.
"I never forget anything but I had a really busy week and I forgot the workshop in November, I was on the train," said the 26-year-old.
"I messed up but I did manage to get there and give them something but I wanted to make up for it and so I came here!
"With the theatres being closed during lockdown I have been delivering workshops and, as I am at my mum's in Bury at the moment, it was easy for me to get here."
Layton wants to inspire the next generation of theatre and television stars and he got the group to do some of the moves from 'Everyone's Talking About Jamie.'
He admitted he got into drama when he was around 11 accidentally.
"I just fell into it really, I did not know what I wanted to do, my cousin was going to drama classes so I went along and loved it.
"I was creative anyway and this allowed me to channel my craziness into being creative.
"Before each class there was a dance class and I thought 'I can do that' as well and so I did. It was fun and I felt like I had found my place"
He went to the famous Carol Godby Theatre Workshop and then went to an open audition for Billy Elliot with around 4,000 others – and got the part!
"I did Year 7 at school then I left state school and then I went to London, lived in a mansion with others and things have gone from there.
"I was suddenly a star in the West End, then I went into television and then it's grown from there. It's gone so fast as I am doing what I love.
"It was amazing for me to see my name up in lights on Shaftesbury Avenue.
"I was on tour but obviously I am not at the moment due to Covid so it's nice to visit schools, have rapport, reach out to people in person and hopefully inspire pupils.
"I want them to see I am down-to-earth, I am just normal and hopefully they can relate to me."
Pupil Sam thoroughly enjoyed the workshop. The Year 10 said: "I learnt today that dancing is quite cool! I really enjoyed dancing. I came along to see what it was all about and it's been great."
Chanelle said: "The workshop was really good fun, Layton was entertaining."
Kyle said: "I learnt about choreography and I will be practising the moves we learnt. It was inspirational."
Paige added: "It was great learning about choreography and it was interesting hearing about Layton's life."
Miss Howell said: "Having Layton Williams come to Priory has been such an exciting opportunity for us. The Arts is growing every year here and there is a genuine passion for it.
"We study "Everybody's Talking About Jamie" on our Drama curriculum so they couldn't wait to meet the real star of the show. We also took a group of students to watch it in London, last year.
"Layton worked his magic, giving students a taste of West End choreography and allowing them a peek at just how hard the industry is; it was nice to see the students taking so much from the opportunity.
"Layton also gave a very important message to all the students, be yourself and make everything you do count. His charisma was infectious and inspired many students, some students now want to be more involved with the Arts and others have been empowered by it."
Layton Williams Visit
Tags: Drama